DUNTREATH AND REDHALL
1609-c.1770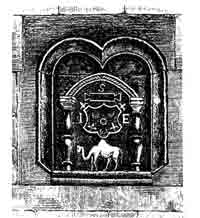 Mural Tablet ot Duntreath Castle,
being the Arms of Sir James Edmonstone,
Six of Duntreath
The family moved to Antrim largely for financial reasons. According to Sir Archibald Edmonstone, the 3rd Bt., "the reduction of the property by the constant allotments made to younger branches had led to considerable embarrassment, and being no longer supported by Court favour or upheld by powerful alliances as heretofore, such were probably among the motives which led to a step so injurious to the family,"
Another cause of impoverishment was the purchase of land in Ireland. Much of Northern Ireland, laid waste by rebellion, had been forfeited and James VI and I was determined to "plant" it with people of Presbyterian faith. Amongst them was John Dalway, who by marrying a daughter of the family of O'Neil, obtained a considerable grant of his father-in-law's former land. Part of it, called Broadisland, he leased in 1609, "for ever to William, eldest son of Sir James Edmonstone, on the usual conditions of finding five able horsemen, properly equipped, to attend for forty days yearly the general hostings of the Lord Deputy; and within five years to build a bawn, namely a fortified mansion of lime and stone, covered with slate, which shall cost in building £300."
Sir James, by then an old man, never himself went to Ireland, but in 1614, in order to pay for this purchase, and to cover his other debts, he mortgaged the whole of the Duntreath estate to his son-in-law Sir William Graham of Braco, redeemable on the payment of 80,000 merks. In the same year however, the mortgage was made over to Sir William Livingston of Kilsyth, but not on quite the same terms, as some portions, for which 20,000 merks were paid, were alienated for ever.
Before he left Scotland, William 7th of Duntreath, as he later became, was appointed one of the Justices or Commissioners for repressing Jesuits and seminary Priests, by an Act of the General Assembly of March 6th 1589.
On settling in Ireland, he built Redhall, a house which remained one of the two principal residences of the family till late in the following century. He had brought with him Edward Bryce, late minister of Drymen, who had been forced to leave Scotland for his opposition to the introduction of Prelacy in 1613. Significantly the Rev Bryce, who was installed in the parish of Broadisland, was the first Scottish Presbyterian Minister to go to Northern Ireland.
William Edmonstone married Isobel, daughter of John Haldane of Gleneagles. They had five sons and two daughters.
The sons were Archibald, James, John, Robert and Andrew.
The eldest daughter Helen, married (as her second husband) Colonel James Wallace of Auchans and Dundonald, famous as commander of the Covenanters who were defeated in 1666 at Rullion Green.
The younger daughter Jean, married Robert Adair of Kinhilt in Wigtoun, and Ballymena in Antrim. The Adairs, had acquired land in Ireland at much the same time as the Edmonstones who must have been fairly near neighbours. But despite their alliance by marriage the families seem to have quarrelled. Jean Edmonstone, c.1629, wrote to tell her husband Archibald that his "brother" Kelhelt (Kinhilt) was responsible "for sterring up the good man of the Capell against you to stay the mille from going..." Capell had been seen to drive out the back sluice and release the water thus bringing the milling to a halt.
Archibald 8th of Duntreath, succeeded his father in 1629. In 1630, by selling parts of the Irish estate, he managed to redeem Duntreath.
He must have made some restoration of the castle. A lengthy description of the walls to be harled by John MacWilliams under a contract of 1631 with Sir Archibald Edmonstone mentions, not only the fine inner gatehouse, a block 9m by 6m with a pend between guard rooms with gunports which lay in the middle of the screen wall closing off the court to the NW, but an outer gatehouse as well.
He seems also to have planned some refurbishing which his mother thought great extravagance. Writing to him, c. 1630, she says "I am sorry to heir ye can nocht leiv with credit in Duntreath before ye bestow tua thosand merkis upon it...it needs nocht bot to mak it dry and mend the glass and the plaister... but gift ye think your credit canocht stand without hingings (hangings) and other plenishings... indeed ye may soon ware out that soum. But God forbid ye be sa daft."
Sir Archibald was elected "Commissioner for the Barons" and member for the county of Stirling to the Parliament held by Charles 1 on his coronation in June 1633, where, as a zealous Presbyterian, he strongly opposed the King's efforts to establish Episcopacy in Scotland.
Archibald and his wife Jean, who was a daughter of Archibald Hamilton of Halcraig, had two sons and two daughters. He died in 1637 and his brothers, James and then John, acted as guardians, or tutors, to his two young sons.
Rebellion broke out in Ireland in 1641 and the Edmonstones loyally supported Lord Clanboye, to whom Archibald's widow was related, against the Irish insurgents. James Edmonstone, Archibald's brother, was dispatched to Edinburgh by Lord Chichester to buy muskets, swords, and pikes, a commission to "James Edmondstoune of Broadyland , Esquire", dated 21st January 1642, being delivered to him in Edinburgh.
Four years later another brother John, of Broich, was sent as ruling elder to the General Assembly in Edinburgh to seek help for the Irish Presbyterians. This was the John whose third son, named Robert, is thought to have been the ancestor of the American branch of the Edmonstone family of Duntreath. (See Appendix 3. p52).
Sadly Archibald and Jean Edmonstone's eldest son William was born deaf and dumb, thus precluding his inheritance. He must have been born by 1630, because a letter to Archibald from "A. Hamilton", presumably his father-in-law, dated 22nd May 1630, refers specifically to remedies by "the King's best Doctors" to cure his deafness. Suggestions included trepanning and immersion in the waters at Bath but none of these remedies, even if tried, met with any success. Sadly William seems to have been aware of his disability for, according to tradition, "on one Sunday when the family were going to the Kirk, and it was intimated to him that he could not accompany, he went into the stable and began eating hay as if to show that, if not fit to attend public worship, he ought to live among the cattle."
Nonetheless, according to the historian Crauford," he was an exceedingly sightly handsome gentleman as could be seen. He had a great vivacity and quickness of imagination, and a wonderful and amazing apprehension of things; and so great and so strong a memory, that...he seldom or ever forgot any person he had once ever seen." He conversed by means of signs and he also had second sight. While at Paisley in December 1656, he somehow managed to give warning that a friend was in danger of drowning, knowing he had fallen through ice. Supported by "an handsome allowance in annuity of the estate " he lived apparently most happily and died at a good old age. The "Dumb Laird's Tower", at Duntreath, which he reputedly haunts, now contains the main stair. Standing on the south side of the former courtyard, it was rebuilt in 1863.
The Edmonstones at that time lived both in Scotland and Ireland. Nothing records their involvement in the Civil War in Scotland between Charles I and his government, but, being strict Presbyterians, they may have sided with his enemies.
In 1651, Cromwell installed a garrison in Duntreath. The soldiers looted the valley and the unfortunate tenants were forced to pay sesses (taxes) to the governor. An inquiry was ordered by the Parliament of 1651, but there is no record of compensation being paid. A table brought from Kilsyth, upon which Cromwell signed a document, still remains at Duntreath.
Archibald, 9th of Duntreath (brother of the Dumb Laird) succeeded during his minority in 1637. He married Anna Helena, daughter of Colonel Scott of Harden, (ancestor of Lord Polworth,) and widow of Sir William Adair of Kinhilt. Her father was killed fighting Cromwell at the battle of Dunbar in 1650, and the banner of the cavalry regiment which he commanded, became a family heirloom. It is now in the National Museum of Scotland in Edinburgh.
Despite his father-in-law being a Royalist Archibald, like his immediate ancestors, was a staunch Presbyterian. But after Episcopacy was restored in Scotland, in 1660, he suffered cruelly for his faith. In 1667 "being at Duntreath on his private affairs, a Minister called Mr Forrester, formerly in the Parish of Killearn, came to Duntreath without Duntreath's knowledge, and had a private lecture in the Gallery there,...which when Duntreath heard of, he thought it no great crime to be a hearer."
However Craig of Ledrogrean (Leddrigreen?) betrayed him to Lord Ross, who promptly despatched a troop of Dragoons to arrest him at his home. Imprisoned in the Tolbooth (the common prison) in Glasgow, for six months, he was taken before the Council three times, his request for a lawyer to plead his case being repeatedly refused. Eventually however Sir George Lockhart came to the jail and advised him how to answer questions put to him concerning the King's lawful right to the Crown and to the recent murder of the Archbishop of St Andrews. He denied any connection with the meeting at Duntreath and, thanks to the lack of evidence, was spared the death penalty and fined five hundred pounds, one half of which went to the informer and the other to the Crown.
Finally he was released on "a petition by the Lady Duntreath to the Duke of York and the Lords of the Council." His life was saved and the fine was provided by his stepson, Sir Robert Adair of Kinhilt, who borrowed £500, from William Hamilton, Dunntreath's uncle. Later following Archibald's death, Adair claimed repayment from the tutors or guardians of his son.
Archibald's health was badly affected by imprisonment. He returned to Ireland and in 1685, when the 9th Earl of Argyll rose in arms to support the Duke of Monmouth against King James VII and II, he seems to have been absent from Duntreath. Argyll, who was trying to reach Ayrshire, encamped near the castle. But after a night march, in which he got lost in the Kilpatrick hills, he was captured fording the Clyde.
More factually it is known that, in 1688 when rebellion broke out in Northern Ireland, Archibald Edmonstone raised an independent regiment of three hundred foot amongst his tenants and neighbours to fight for the British cause. Colonel Edmonstone garrisoned his house Redhall. Then in the siege of Derry, re-inforced with men from Adair's regiment, he was ordered to secure the pass at Glenlone, to prevent the enemy from repairing the bridge across the Bann. The weather was extremely wet and, fighting in a muddy trench in water up to his knees, he caught a very bad cold. Forced from his position, he tried to enter Derry, but the garrison there, besieged and starving, refused admittance. Struggling on, by now extremely ill, he managed to reach the fort of Culmore, where, knowing he was dying, he asked to be buried in Strathblane Church.
His wishes being observed, he was laid above his ancestress, Princess Mary, sister of James I. The bones of both were discovered and returned to a grave below the floor (marked with a plaque) in 1844. He died aged only fifty one.
Archibald, 1Oth of Duntreath, succeeded in 1689 when about seven years old. He sat in the Irish Parliament, as the member for Carrickfergus, throughout the whole of the reign of George 1 from 1715 to 1727. He also added to the family property both in Ireland and Scotland. He married firstly the Honourable Anne Erskine, daughter of Henry Lord Cardross, by whom he had one daughter, and secondly, in 1716, Anne, second daughter of the Honourable John Campbell of Mamore, second son of Archibald 9th Earl of Argyll, by whom he had three sons and two daughters. Involved as he was in Irish politics it seems very unlikely that he spent much time at Duntreath.
People living in the Lowlands, then as for centuries before, dreaded the Highland cattle lifters. Storms sweeping down from the hills are called "Dirty Macgregors" to this day. At Duntreath beasts were driven into the courtyard at first sign of the raiders approach.
During the 17th century protection rackets had been organized. A notice issued on the 3rd February 1658, by the justices of Stirling, instructed the heritors of several parishes to make regular payments of "Black Mail" to Captain McGregor, a predeccessor of Rob Roy. A copy given to Archibald Edmonstone, Bailzie of Duntreath, was to be published in the kirk of Strathblane.
Rob Roy himself was a "protector" until, having quarrelled with the Duke of Montrose, he too became a "lifter". Then following the Jacobite Rising of 1715, when weapons were confiscated in an amnesty, the unfortunate farmers, were left without arms to defend themselves. Legends of Rob's activities abound in the Blane Valley. He is supposed to have hidden in the oak tree, called "the Meikle Tree" below Blairquhosh (unfortunately killed by road development and now cut down) where, crouching amongst leafy branches, he heard soldiers below discussing plans to capture him.
On the 11th April 1716 Graham of Killearn, factor to the Duke of Montrose, wrote from Killearn to Mungo Graham of Gorthie, the Duke's chamberlain, asking him to get a punitive order from General Cadogan, second-in command to the Duke of Argyll, "to subdue these villains (Rob Roy and his followers) whose insolence is not to be born any longer. They have just now stolen a good deall of sheep of the Muir of Blane above Duntreath, and daylie threatens more mischief to all the country".
Proof that Archibald Edmonstone was then largely absent from Duntreath comes in a letter from James, 1st Duke of Montrose, written from Edinburgh on 22nd May 1741. The Duke, while requesting his support for his son, Lord George Graham, as proposed member of parliament for the County of Stirling in a forthcoming election, says "Sir I was glad to heare yesterday that yow was come into this countrie as yow have been a great stranger amongst us".
During the absence of the lairds of Duntreath in Ireland their Scottish estate was managed by the Edmonstones of Spittal or Broich. Mr John Guthrie Smith, in his "Parish of Strathblane", explains the double appellation.
John Edmonstone of Broich, the tutor or guardian of his nephews (see p.26) fell into debt. Consequently about 1653, Archibald Edmonstone of Ballewan and Harlehaven, a descendant of the illegitimate son of Sir Archibald 3rd of Duntreath (see Appendix 2, p.38) brought a decreet against him and managed to obtain a sasine of his estate of Broich near Kippen.
In 1662 however, when Archibald bequeathed Broich to his son James, William, the son and heir of John the Tutor, refused to be dispossessed. Archibald Edmonstone and James, losing patience, broke into the house of Broich, whereupon William's on, of the same name, appealed to the Lords of the Privy Council who ordered James Edmonstone "to quyt and leave the possession attained by him... within six days under the paine of five hundred merks".
The "new" family of Broich eventually gained possession, but the legal battle over whether Archibald of Ballewan and Harlehaven had been lawfully infefted in 1653 continued until 1724.
Archibald Edmonstone of Ballewan and Harlehaven had three sons, James, John and Archibald.
James, who received Broich from his father in 1662, had two sons who both died childless, the second of whom named George, sold Broich to Mr William Leckie in 1773. Consequently the name of the estate was changed by the latter's grandson, Mr Leckie Ewing, to Arngomery, which it still remains.
Archibald Edmonstone of Ballewan's second son was John of Ballewan and Blairgar, from whom these places returned to the Duntreath family.
Archibald, his third son, who seems to have lived at Blairquosh, died in 1704. His son, also Archibald, born in 1676, is known to have owned Spittal, which he acquired from his uncle James of Broich (see p.8) and to have been living at Ballewan by 1696. Also, like his father and grandfather he became Bailie of Duntreath.
His son, grandson and great-grandson, followed him in this capacity until the latter, on the failure of West India estates, sold Spittal to his distant relation Sir Archibald Edmonstone, 3rd Bt., in 1833 (see p.8).
The efficiency of the Edmonstones of Spittal and Broich as factors seems questionable as it must have been during their time that the castle of Duntreath became ruinous, as is shown by Sir Archibald, 5th Bt., in the water colour sketches, created presumable from hearsay or copied from earlier drawings.